March 1, 2018
Top 10 Mobile App UI of December 2017
It's hard to believe that it's really the end of the year. So much has happened in the design world and with such and industry-altering new , it's clear that 2018 is going to be a whirlwind of amazing design. But before we get too excited about what 2018 will bring, let's look back at the mobile app UI designs that rocked our world this month.
1. HQ by Intermedia Labs
If you aren't playing HQ yet, maybe you have been living under a rock? This new trivia app has taken the (iPhone having) world by storm, and it's hard not to get hooked after one game. HQ runs two trivia games a day on weekdays (12pm and 6pm PST) and one on the weekend (6pm). It features its typical host, the hilarious Scott Rogowsky, or a guest cracking jokes about current events and then it's game time. Hundreds of thousands of players tune in to answer 12 random questions for the chance to win money. While I've never won, it's still a fun activity to do alone or in competition with friends. As for HQ's design, it is a mashup of bright purples, pinks, blues, and yellows that blend perfectly. It follows a typical quiz format, with three options to choose from and a timer counting down at the top of the screen. There are also user comments that are about 99.9% spam at the bottom that users can luckily remove with the swipe of the finger. HQ is far from perfect, as it lags and even has to be rescheduled from time to time, it's still an interesting perspective on where mobile app UI design is currently.
Get HQ on .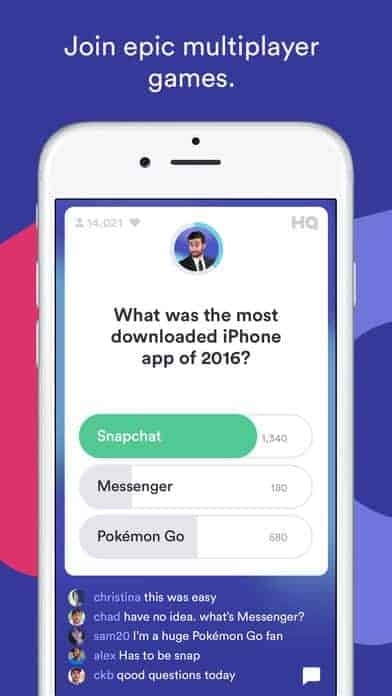 Source:  .
2. Coinbase by Coinbase, Inc.
2017 has been a rollercoaster of a year and cryptocurrencies are the perfect example of that. Bitcoin used to be just a blip on the radar, but it's surging upward in value (each one is valued at more than $20,000 US as I write this article). While Bitcoin is the most talked about, others, like Ethereum and Litecoin, are also taking off. Buying and selling these three cryptocurrencies easy within the Coinbase app. It is a nearly royal blue hue that many banks use because it signals to the human brain. There are no frills within the mobile app UI design, as it aims to help users buy, sell, and transfer cryptocurrencies effortlessly. The design is uncomplicated with helpful graphs (that are color-coded by currency), easy to manage alerts, and quick conversions to local currency.
Get Coinbase on and .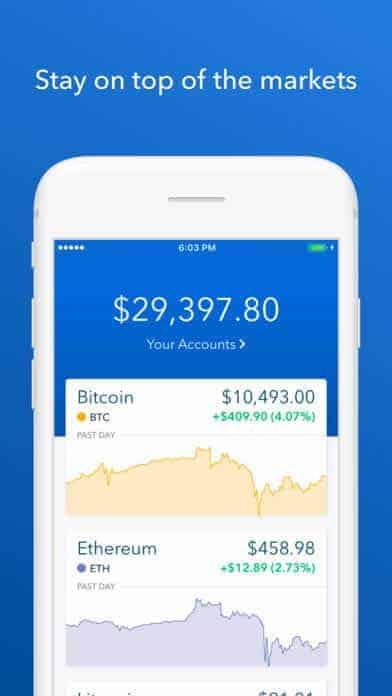 Source:  
3. Swatches by Andrew Campoli
We're big color lovers here at Proto.io. Whether you're a designer or just love design, we can all agree that getting a color just right in an app is important. When we're out and about in the world we see a number of amazing colors that can inspire our next project or even inspire us to repaint our bathroom. Swatches defines itself as a live color picker. Simply take a picture of something (or many things!) that interests you and Swatches will develop a palette, matching each of the main colors featured in it. The app users applaud it for its simplicity, as it allows them to find colors out in the real world, save them, and use them however they'd like. It's especially helpful for designers of all kinds that it shows each color in RGB, hex, Pantone, and Benjamin Moore wall paint.
Get Swatches on .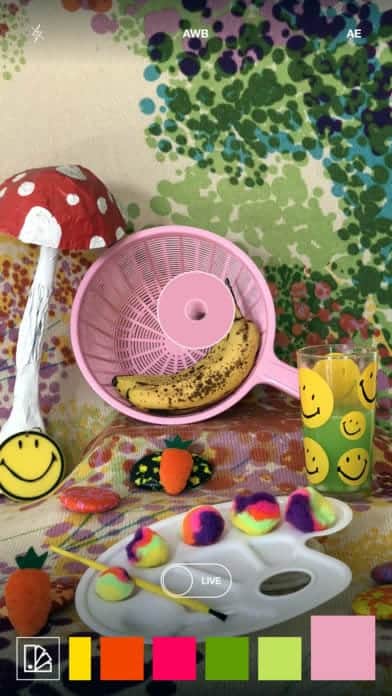 Source:  
4. Shine by Shine
Shine is a delightful new motivational app that aims to bright a positive light to its users' lives. It sends automated motivational texts to users and offers guided meditations in-app. It gets as personalized as you'd like to, with pointed questions about your day. On the other hand, users can also open up the app and choose what they'd like to focus on, based on time of day, what exact situation they'd like to work on, or what week-long challenge they'd like to take on to better themselves. What I love about Shine is its muted, pastel colors that work together with the app content to de-stress users. Its card based layout for categories and challenges is simple and effective. And, my personal favorite, the time of day buttons are literally shining, as their darker inner colors emanate out and become lighter. They very effectively use shades of their main, soothing color to accent each screen. For anyone looking to increase motivation and self centeredness, Shine is the app for you.
Get Shine on .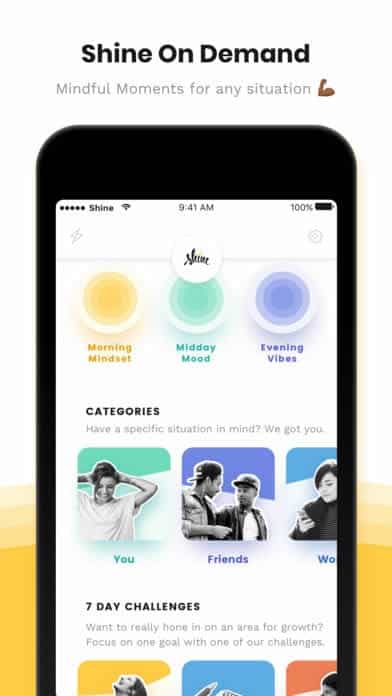 Source:  
5. Nike Training Club by Nike
We all know we should workout, but in the winter months, the call of the couch is hard to ignore. With the help of Nike Training Club, you'll have another reason to get up and get moving. Personalized training plans help you stay on track with daily workout recommendations. You'll even see some of the top athletes leading training videos (hello, Ronaldo!). The app itself is as sleek as every physical product Nike makes. It's a crisp white with black accents and the occasional neon green to show your progress in a given workout. It has inspiring images of fitness fanatics for each card and section, adding another layer of motivation to the mix. Another reason (and a well designed one, at that) to stay on top of our fitness goals during the cold months? Yes, please!
Get Nike Training Club on and .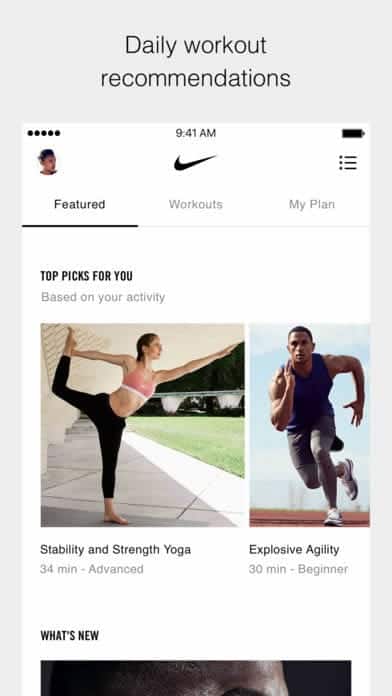 Source:  
6. Tab by bring10, LLC
Going out to eat with friends is the best… until the bill comes. But with the help of Tab, splitting the check can be much easier. Users take a picture of the check, each person notes which item was theirs (and you can split dishes multiple ways, if you shared it), and the app adds up each person's bill, including tax and tip. Then you can split the cost via cash, Venmo, or put in multiple credit cards if that's an option at the restaurant. Tab makes the entire process painless, as the bill is uploaded into the app in plain white with gray text to make the process as simple as possible. Along the bottom, you can see all the people splitting the bill and keep track of who ordered what. Then highlight what you got and it turns into an easy to understand individualized bill with the total of your items, the tax, tip, and final cost. Finally, it offers to connect to your Venmo to pay your share to the person who put their card in or cover someone else if it is their Birthday or some other occasion.
Get Tab on and .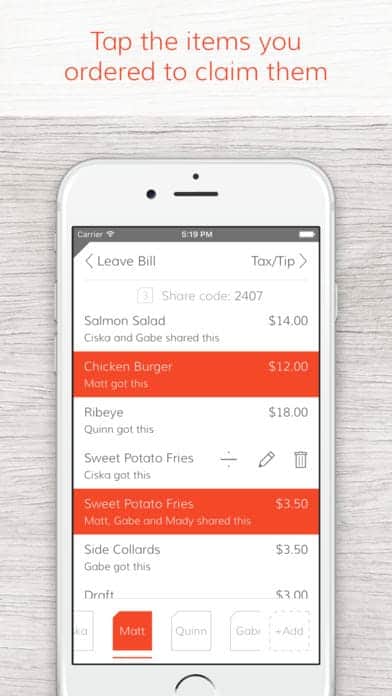 Source:  
7. Genies by Genies, Inc.
Move over, Bitmoji, there's a new avatar in town. Genies are super personalized avatars (or, "mini clones" as the company calls them) and they're set on taking social media and messaging by storm. They're much more than the average avatar, as you can teach them what you care about. In addition, they are interactive and can be added in with friends' Genies (or even add celebrity Genies to the mix). This mini-me has the ability to react to the real world. Making your Genie is only half the fun. Seeing how much they're like you and sharing them out with friends is what makes this app a required download. In the Genies app, in order to create your clone, you swipe through the hair, eye, skin color, clothing etc options with a circle of possibilities. Your Genie updates as you make changes. When you make your Genie just like you inside and out, it's time to have it interact with friends and share it out, which they make easy with social share buttons below each of your creations.
Get Genies on and .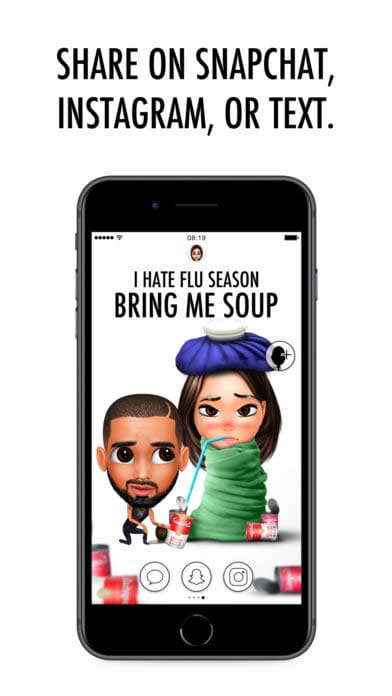 Source:
8. Robinhood by Robinhood Markets, Inc.
Investing in the stock market is now much easier than ever. You don't have to have a personal relationship with a broker or an expensive portfolio to pick stocks. Robinhood provides commission free trading so you can track and buy stocks for free. This recipient is not to be missed, as it has a delightfully minimal mobile app UI design. The app is white with mint green accents to highlight stock price increases over time. For stocks that have decreased in value, the graph and ticker switch to red so that app users can quickly see which stocks aren't doing as well. On top of that, their rewards center for inviting friends and purchasing a more inclusive plan introduce fonts and designs that stand out from the rest of the app, with golds and fonts that are reminiscent of the Great Gatsby era.
Get Robhinhood on and .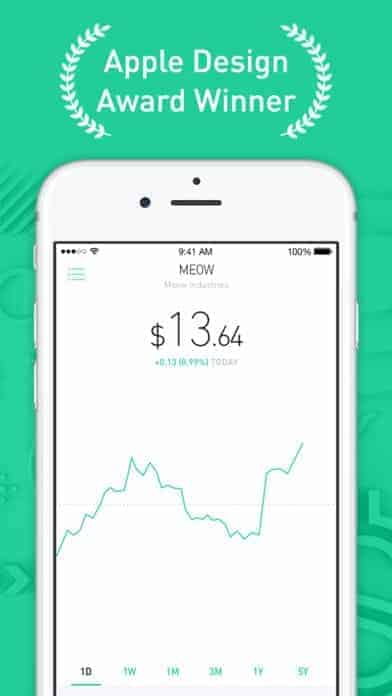 Source:  
9. Empower by Empower Finance
With subscriptions and automated payments, it's easy to have higher monthly bills without even noticing. Empower helps its users save money by canceling subscriptions they don't use, visualizing credit card debt to pay it down, and get personalized recommendations to help build wealth. The app makes each screen's information into a graph to see the current state of each facet of your finances, such as spending broken down by category. Its bright colors for each financial category, on top of cheerful animations to go along with each one, make the mobile app UI much more fun than the average personal finance app.
Get Empower on and .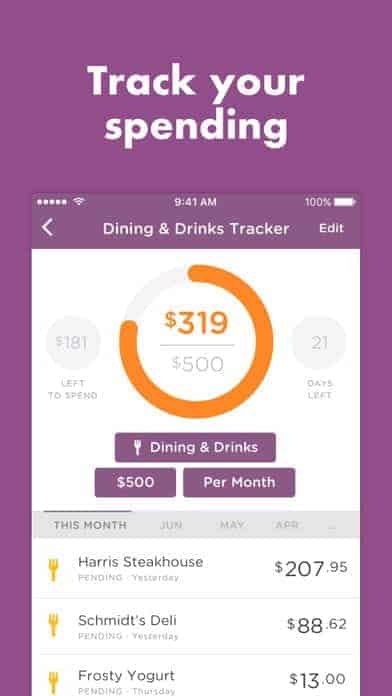 Source:  
10. Runtasty by runtastic
Beautiful food apps are hard to ignore. This one, in particular, combines tasty food photography with a delightful pink design. Scrolling through recipes, users are met with high quality images and brightly colored icons that let them know what categories it fits into, such as a quick recipe or one that's low calorie. Once you choose what to make and tap into a recipe, there is the option to watch a video of it being made, view ingredients and instructions, and easily see how many servings it yields, along with how long it will take you to make. In this comprehensive app, it is easy to explore new recipes and save your favorites.
Get Runtasty on and .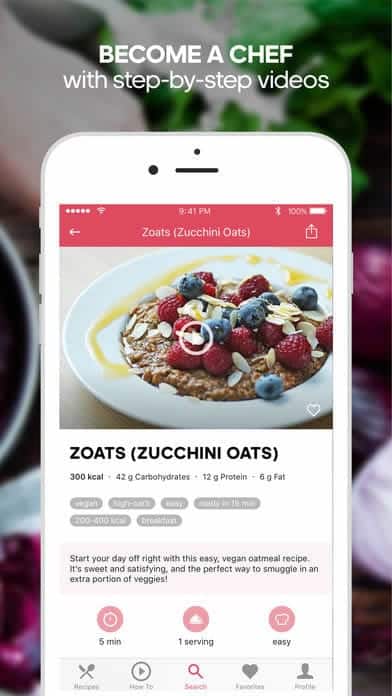 Source:  
That wraps up the apps for December, but if you'd like to explore some of our other favorite mobile app UI designs, check out our .
Feeling inspired? Sign up for free with and prototype your own app in minutes.
If you enjoyed this curated list of great mobile app designs, share it with your social network! Do you have a suggestion for the next edition of our Top 10 Mobile App UI series? Reach out to us via Twitter or on.
The post Top 10 Mobile App UI of December 2017 appeared first on Proto.io Blog.
Source
https://blog.proto.io/top-10-mobile-app-ui-december-2017/